Shopping Cart
Your Cart is Empty
There was an error with PayPal
Click here to try again
Thank you for your business!
You should be receiving an order confirmation from Paypal shortly.
Exit Shopping Cart
In an article in today's Telegraph it has emerged that more than 100 top chefs have written to Peter Dominiczak, Political Editor of the telegraph.
The reason they are writing to him is that they believe the new EU legislation on how the top 14 allergenic foods are identified in foods sold loose or prepared on site for consumption, are going to cause "significant damage" to the catering industry.
Let's put the new EU law in to perspective. The top 14 allergens are: Eggs, molluscs, crustaceans, celery, milk, fish, treenuts, sulphites, soya, sesame, peanuts, mustard, lupin and cereals containing gluten.
The letter of the new law states that if a product sold loose or a meal prepared onsite contains any of these allergens, the person or business selling them must have the knowledge to provide the information upon request, to a customer who asks for it.
It's really that simple. The law doesn't say they must remove the allergens from their dishes, it doesn't say they must provide a complete breakdown of every ingredient in their dishes, it doesn't even say they must provide the information in writing, verbally communicating the information is acceptable (something which any chef should be able to do without a second thought, after all chefs never stop bleating on about the importance of provenance of ingredients.)
So why are these chefs getting so hot under their chefs whites?
"The letter states: "As chefs, restaurateurs, hoteliers and caterers, we are concerned about the bureaucratic nightmare the recent EU allergen regulations have imposed on our businesses.
"And it is not just the cost. They will reduce the spontaneity, creativity and innovation restaurants and others in the industry have enjoyed up until now.
"We need real change in the EU as the last thing small, independent businesses like restaurants and cafes need is to be hampered with further regulations and an even longer rulebook."
Point one, cost:
The new EU law does not have to cost anything, it's simply knowing what is in the food you prepare (and if the chef is preparing food from the raw ingredients should know this anyway) and being able to tell the customers who ask is all that is required. If the dish is written up on a chalk board, add a little initial or symbol to alert customers to the presence of allergens.
Providing allergen information doesn't cost anything, and to create a matrix is simple, here is one I've just rustled up, you can have it for FREE!!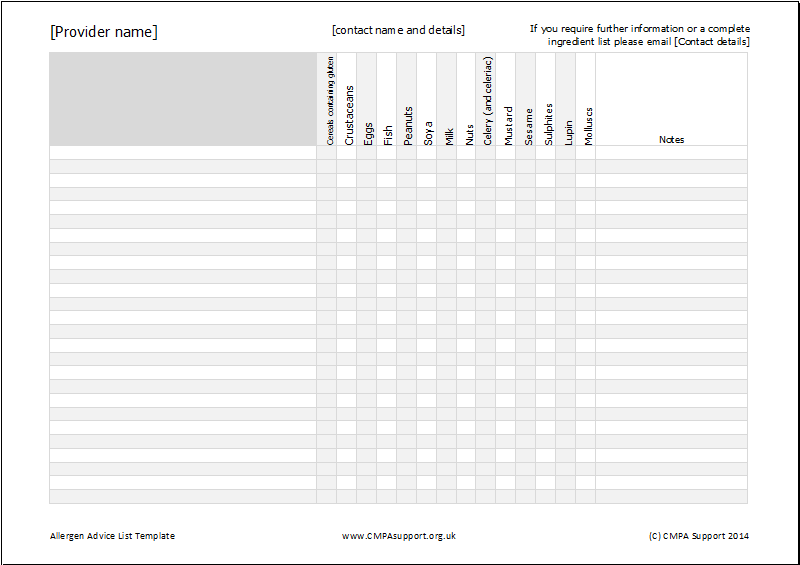 Point two, spontaneity, creativity and innovation:
The EU law does not have to impact the chefs spontaneity, creativity and innovation, if the chef writes notes when they're creating new dishes, they already have the information to give when requested in any of the ways outlined in point one.
secondly, if a chef wanted to provide for the millions of sufferers of food allergies, intolerances and food related auto immune diseases in the UK (and the EU) they could use their Creativity and innovation to create dishes without any of the top 14 allergens present, doing so would create a storm in the allergy and intolerance community, and that would increase business and reputation.
So cost and creativity aside, what else is taking these top chefs to boiling point?
"Miss Miers, who won BBC cookery competition Masterchef in 2005, said: "It is a total fiasco and in my view is the responsibility of the allergee to ask, no the restaurateurs to list. I had a severe allergy for 6 years so coming at it from both sides of the fence."
Yes Miss Miers, your correct, it IS the responsibility of the 'allergee' (we prefer allergy sufferer) to ask, and it is YOUR responsibility as the chef/business to PROVIDE the information. Enough said on that point.
"And Ms Leith said: "These new rules on the labelling of allergens are a bureaucratic nightmare that will inflict significant damage on the catering industry, particularly on smaller business – which must be assessed before any more damage is done."
The only damage being done here, is to your own reputations as chefs, to openly admit to not know exactly what is in the food your cooking is surely damaging your business, after all, who would want to eat out if the chef doesn't know what is in the food they are preparing?
"Matthew Elliot, from campaign group Business for Britain, which organised the letter, added: "This is a costly overreaction from Brussels using a regulatory sledgehammer to crack a nut. Diners with allergies can and should be able to eat out with allergies, but this has unfairly placed too great a burden on the catering industry which will hurt customers, and in particular small independent businesses.
"These rules have come straight from the EU with little debate or warning at home. They are unaccountable to diners and businesses across the UK."
We in the allergy community whole heartedly agree that you are creating a mountain out of a mole hill, we also agree that the implementation of the new law could have been handled better by our Food Standards Agency, but that is another issue.
The simple fact of the matter is, all the law requires businesses to do is be aware of what is in the food they serve so when someone visits their restaurant, deli, cake stand etc. etc. and asks for information about allergens, it can be provided.
Categories: General
/