Shopping Cart
Your Cart is Empty
There was an error with PayPal
Click here to try again
Thank you for your business!
You should be receiving an order confirmation from Paypal shortly.
Exit Shopping Cart
Happy New Year 2015 from CMPA Support!
2014 was a fantastic year for CMPA Support, we ended the year on a fundraising high, following an amazingly successful #MOOvember and December selling "Magic Reindeer food!"
We're still receiving donations of funds raised for both events, but the running totals are fantastic, and it looks like we may have raised close to £2000 through the events!
A huge well done and thank you to everyone who took part in an event, bought a ribbon, made and sold Reindeer food or shared a post!
Our next step is to decide how we use the money we have raised, we are going to be using some of the funds to upgrade and redesign our website however we do not anticipate that this will use up the total funds we have sat in the account. There are various ways in which we could use the funds, and we need the input of our followers to help us to decide how best to use them in order to fulfil our charities aims and have maximum impact.
In order for you to have a say on how the funds raised now and in the future are used you must first become a full member CMPA Support. Membership is £10 per person for 2015 (fees cover administration costs) and comes with the following benefits-
1) Members are invited to join the exclusive member's only CMPA Support Facebook Group and website forum.
2) CMPA Support pin badge.
3) Monthly newsletter.
4) FSA Allergen alert updates.
5) *Members will receive a quarterly Magazine filled with special offers, coupons, recipes, information and support!
6) *A membership card which entitles the barer to exclusive member offers including free entry to CMPA Support Play Groups.
7) ICE cards.
Chef Cards.
9) Translation Cards for trips abroad.
10) Ingredient avoidance cards for each allergen affecting the family.
11) Copy of our annual charity report.
12) Right to apply to join the committee, attend the charity AGM and volunteer for the charity.
*Some of the benefits mentioned above will only become available when enough members have joined CMPA Support. The benefits are provided by third parties once a certain number of members join.
CMPA Support groups are only available in selected towns and cities at this time, more will become available as the foundation grows and more funds are raised.
If you would like to join CMPA Support please request and print the application form by sending an email to [email protected]  complete and return with the fees to the address provided. Please allow up to 6 weeks for delivery of your membership pack.
By joining CMPA Support you will also gain the right to volunteer for the charity in a variety of roles from support group admin to website editor, we will be recruiting throughout 2015 and we would like to fill our staff with likeminded parents who understand the daily struggle of living with food allergies. If you have an interest in volunteering for the charity and/or joining the committee please remember to state this on your member application form.
Raising funds was only half the story in November #MOOvember was not only about raising money, it was about raising awareness of CMPA too, and raise awareness we did!
During November our Facebook page (https://www.facebook.com/CowsMilkProteinAllergySupport" target="_blank">Cows Milk Protein Allergy Support) received 487 new likes, and our posts reached out to over 25,000 Facebook users!!
That is directly down to you, our page followers, interacting with our posts, as the graphs below illustrate;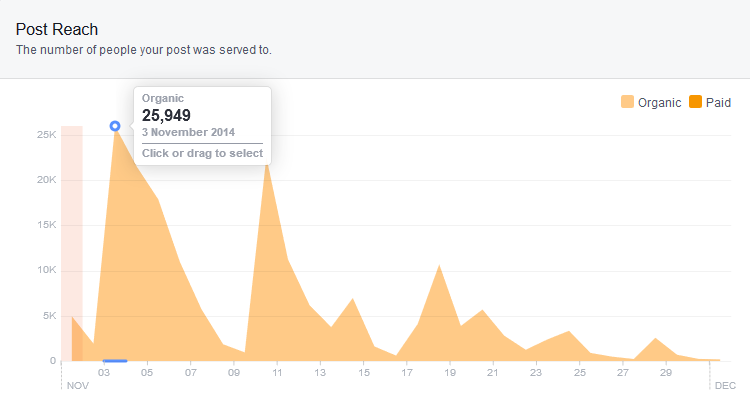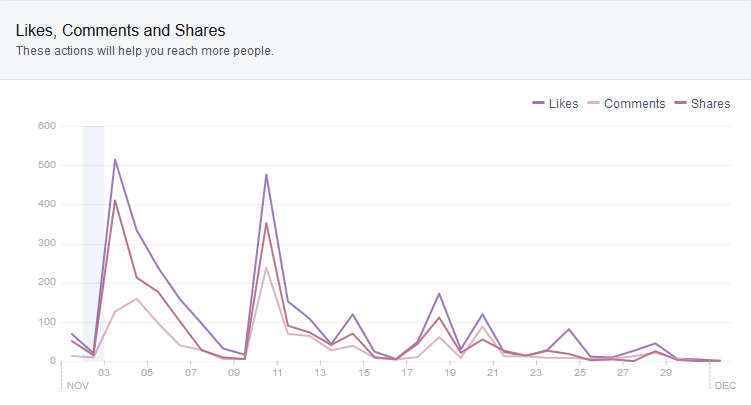 As you can see, there is a direct link between the number of Likes, Comments & Shares and the number of people our posts reach, so please keep interacting with our page, there is so much more to come in 2015!
You may wonder why you don't receive updates of every post made on the CMPA Support Facebook page, this is due to the fact Facebook "serves" our posts to a percentage of our page followers, they do this because they want us to pay to promote our page and posts, CMPA Support do not believe that we should be spending the money we work so hard to raise on promoting our Facebook posts, so we rely on our followers to "like" "share" and "comment" on the posts they are served.
There are ways around this, if you want to see all of our posts you can add our page feed to your Facebook Feeds, you can do this by following these simple steps
1. Make sure you have "Get Notifications" checked, you will find this by clicking the arrow to the right of the "Liked" thumb on our page – this feature isn't available through the Facebook app, you must visit our page through your browser to change this setting.
2. Create a page feed list – you can add all of your favourite pages to a personal news feed! There is a really simple way to do this, again the option is only available via a browser, not the Facebook App. Beneath the option to check "get notifications" you will see an option to "Add to interest list" click this
3. Click "create new list"
4. Select your favorite pages and people to add to your list from the menu on the left and click next.
5. Name your list and select privacy options for the list and click "done".
6. You will find your list on your Facebook side bar, scroll down until you find your "Interests" tab
7. Hold your cursor over your new feed and a settings cog will appear, click "add to favourites" .
8. Your new feed will now appear in the list at the top of your page, you can rearrange the order of your favourites by holding your cursor over the settings cog, clicking "edit" then "rearrange" and dragging the feed to you preferred spot in your list. (TIP: You can add groups to your favourites and move them around in the same way!)
9. When you have your feed in your favourites list you can check it just like you do with your usual news feed, from the App or via a browser, and you will know when there are new posts waiting by the number at the side of the feed title.
10. Alternatively, you can follow the public feed we set up and add too regularly, the Allergy/Free From feed has over 100 pages of interest, simply follow this link and click follow.
Coming up in 2015
• CMPA Support eBay store – we are looking in to the possibility of opening an eBay store from which we will sell ambient free from food products, initially we will stock seasonal items such as chocolate Easter eggs, and these will be discounted to as near to wholesale prices as possible for CMPA Support members (a good reason to get your membership application forms in quickly!)
• You Tube video channel – we intend to start a You Tube channel this year where we will post videos to raise awareness, supportive vlogs, and step by step recipe videos.
• Fundraising events, MOOvember will be back with a bang in November and we will be raising money through the sales of Reindeer food once again. We will also be starting a new fundraising campaign to raise much needed funds to get our Play Group scheme off the ground.
Categories: General, Fundraising
/