Shopping Cart
Your Cart is Empty
There was an error with PayPal
Click here to try again
Thank you for your business!
You should be receiving an order confirmation from Paypal shortly.
Exit Shopping Cart


Have you heard about the new kids on the block in the dairy free milk style drink department?
These drinks not only appeal to children, they are also safe for the vast majority of them!
Rebel Kitchen's mission is to provide healthier alternatives, using only a handful of natural ingridients, which are all free from the top 14 allergens;
Water, Cacao, Date Nectar and Coconut milk, with the adition of Orange oil in the orange flavour and crushed bananas in the banana flavour.
They are becoming available in health food shops and online, and they are also available direct from the Rebel Kitchen shop.

Niamh (4) was so excited to try these drinks, she absolutely loved the design and asked continuously if they were for ok for her, she is so used to the majority of her cows milk alternatives being very grown up in comparrison to the fun products that her 5 year old brother has which are targetted specifically at children!
She tried BANANA MYLK first
It was a clear joy for her, "Mummy it tastes like the chocolate lollys you make us!"
I knew exactly which ones she was talking about....

I had a taste (only a taste mind you, she'd nearly drained the carton!) and she was absolutely right, it did taste like my chocolate lollys! It was actually a bit of a shock to me, I was expecting more banana and less cacao, but it didn't matter, it's thick and creamy, which for a non dairy milk drink is a real surprise!
Next under the scrutiny of my mini me was CHCO MYLK

Choco Mylk was not such a huge hit with Niamh, but that is down to her taste, she isn't a fan of any chocolate flavour drinks we've given her so it wasn't a shock to me.
The shcok came when her brother finished the carton, the brother who usually tries dairy alternatives followed by dramatic reactions of "yuc" "yuccy" "blugh!"
So it was a hit, but I didn't get a look in on this carton, so from an adults perspective I can't tell you how this one tastes, but rest assured if Oscar enjoyed it, it must be pretty good!
So last to try was ORANGE CHOC MYLK

I'd learnt my lesson after the choco mylk was finished before I even got a drip, I tried it first, and it was exactly what I was hoping for......
liquid.....
!

It's truely delicious, the level of orange oil is perfect I could have drank the whole carton, but that wouldn't be fair, so I let little miss have a try and I secretly hoped that the chocolate would be too much for Niamh, but...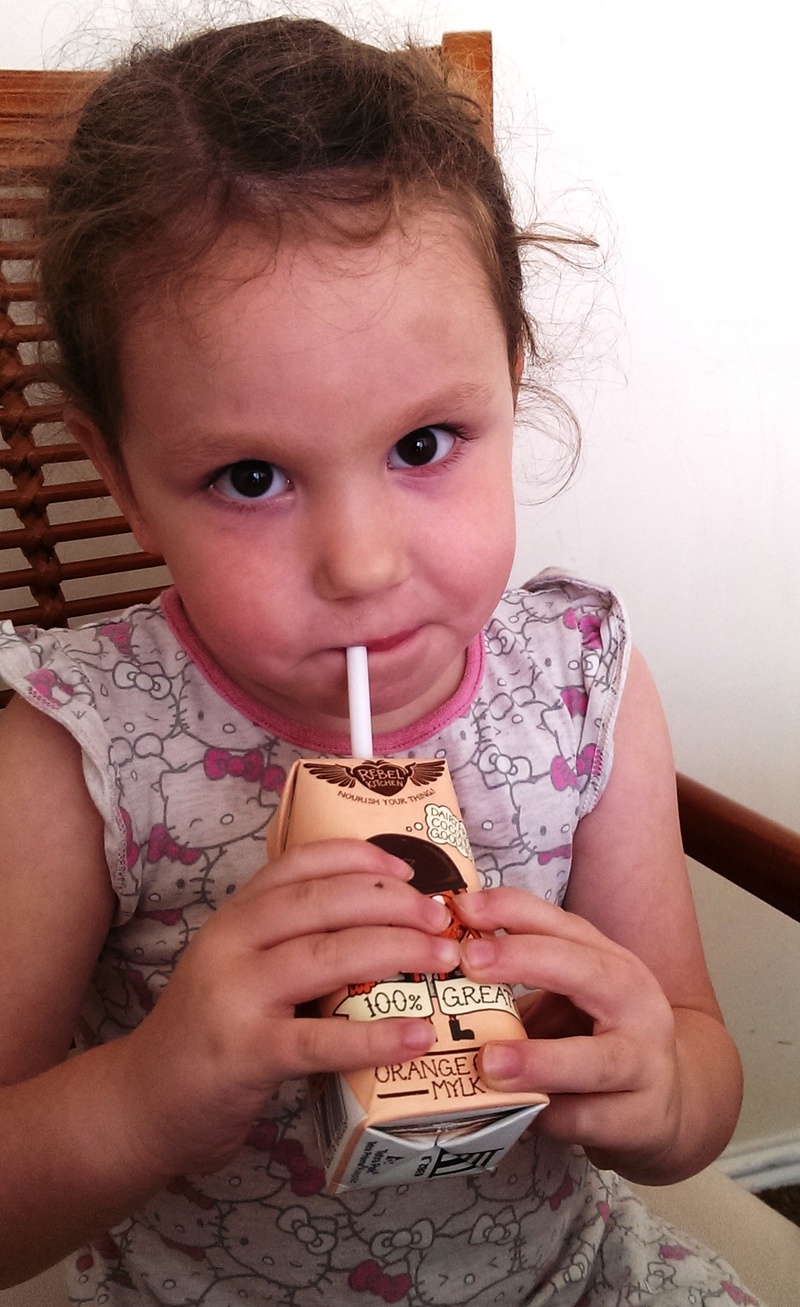 She loved it, "It's monkey bar drink! Mummy you have to buy some of this!" For those of you who don't know what 'Monkey bar' is, it's Niamh's name for Moo Free's new Chocolate orange bar...
So for me it's liquid Terry's chocolate orange, for Niamh it's liquid 'monkey bar', either way it's devine and will certainly be on our regular order!
The best thing about Rebel Kitchen MYLKS.....

They also make MYLK for grown ups!


This was my turn to taste the CHOCO MYLK



It was as I was expecting, chocolatey, a hint of coconut, not too sweet but sweet enough to stop any chocolate cravings.
Next I tried CHAI MYLK
Now I'm a huge fan of a chai latte, and I was hoping this would be a winner, but I didn't enjoy it, it has cacao in it, and I felt this over powered the spices I associate with my chai latte. Don't get me wrong, it tastes lovely, just not for me with the cacao.
And saving the best for last...
GREEN TEA MYLK

Now this was what I expected, there is no cacao in here, but the flavour is spot on, this was the most refreshing of all the Rebel drinks, and my clear favorite!

/